You have to consider the color of your swimming pool exterior or your courtyard with more light or depth on the basis of the color of your house. The best thing of the pavers is that you do not have the headache of polishing them since they look great even in the non-split version. The tiles are smoothened on all sides to give that crisp look to it which also makes it non-slippery which is something that you would require if you are drenched and coming out of a swimming pool underfoot in order to avoid a poolside slip.  Slabs made of Teak wood get all eyes glued on them because of their teak wood texture pattern.
It is water and frost resistant so if you have a heavy rainy day or a frost day the stone will not allow moisture in any form to penetrate within and lead to cracks. Due to these properties, they are durable. The color combination of the blue waters with the light or dark beige tiles will look prominent together. Buying good tile from Rainbow Sandstone Manufacturers will not only help you to give your courtyard a decent modern feel but it's also a good alternative for creating a good exterior for your vintage home if you have alternative because the sandstone pavers have been used in the classical monuments since time immemorial. Using Teak wood tiles is also a great option in natural interior décor flooring and tiles like waterfall stonewall and wood effect tiles theme of your house. They will give you a harmonica interior and exterior home décor but also a design and pattern that is difficult to find in any other tiles.
The other important feature of Teak sandstone slabs is that they have a high resistance against staining so the maintenance cost is pretty low for the sandstone tiles and pavers. To upgrade the version even more it is required that the pre-sealing of the tiles is done. All the sides of the tile or the paver needs to be sealed completely so that it gives maximum resistance against water especially if you planning to install it in your courtyard. For this purpose, it is better to use a good surface sealer to increase the life of the tiles. A good water based sealer is designed to resist water from dripping in any natural stones that is used indoors or outdoors. It would also help you to achieve maximum stain protection. The sealer should also not change the original color or the design of the stones. It should be able to keep the color intact for a long time and also be a good weather protector and avoid people from tripping due to its surface being slippery. You should try to let the material penetrate as much as possible since the more the sealing material penetrates the better moisture resistance it will provide. One should avoid using   cleaning material that have acidic substances which are harsh on these stones and change the color or the pattern. You can check for a good natural stone cleaning product for the same.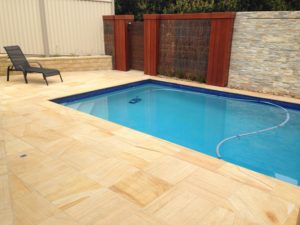 The Teak wood sandstones are imported from the South Asia especially India so it is also called Teak Indian Sandstone. Citing the various qualities these should be your first choice because they have all the qualities of a great backyard tile. There are a number of manufacturers but the ones that consider it as an art are petty few.